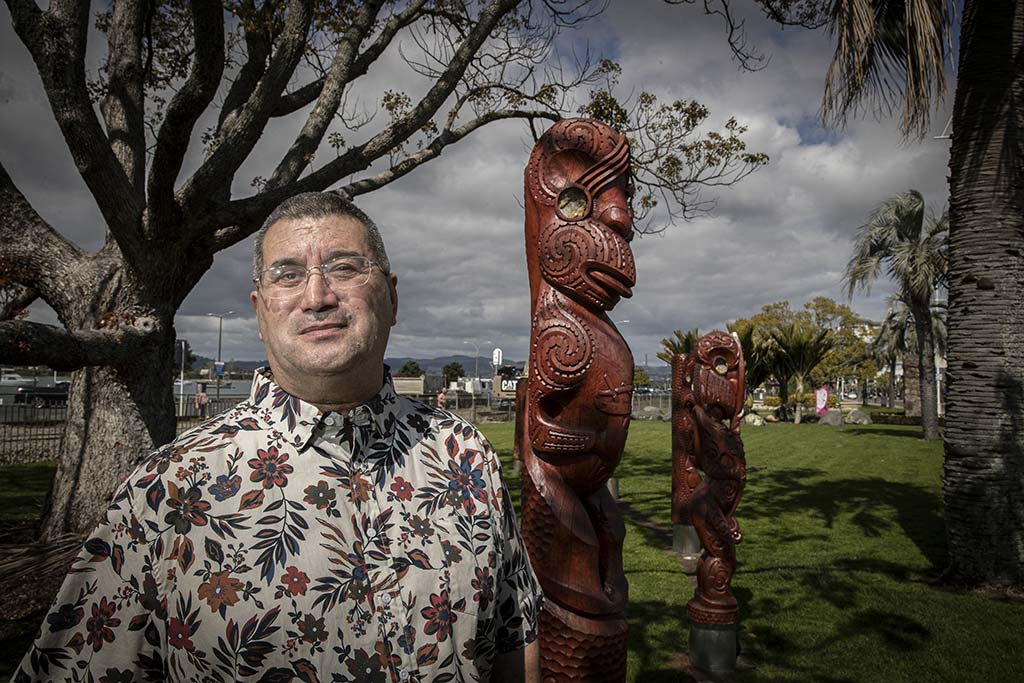 13 Apr

Te reo Māori can enhance all aspects of life – Dr Rāpata Wiri

By Rosemary Rangitauira • 31/03/2022

Dr Rāpata Wiri is on a mission to make it easier for people – including teachers – to learn te reo Māori so they can enhance all aspects of their lives.

He affiliates to Tūhoe (Ngāti Ruapani, Ngāti Hinekura, Ngāti Manunui, Hāmua) and Te Arawa (Ngāti Whakaue, Ngāti Rangiteaorere, Tūhourangi, Ngāti Pikiao, Ngāti Rangiwewehi).

Rāpata holds a PhD in Sociology as well as a Master of the Arts with first-class honours in Māori studies and history, and a Master of Law (LLM candidate).

Last year, he led the development of a te reo Māori app to support a Ministry of Education aspiration to assist more teachers to learn Māori.

Rāpata lives by this whakatauākī or proverb:

Matapoporetia te reo ki te ngākau tāngata | Instil the language into the hearts of the people.

He thanks his grandparents, Mary and Nehemia Wiri who brought him up, for his love of te reo which has paved the course of his life.

"They raised me to be very proud of my whakapapa (genealogy), culture, and being a speaker of te reo. I followed my Nan everywhere like tangihanga, I was immersed in that environment of being on the Marae. My Koro (grandfather) was a strong spiritual man, he was like a tohunga with the Hāhī Ringatū (Ringatū faith). They embedded that passion for our culture – which has stayed with me and drives my passion to keep our culture alive."

Rāpata, a native reo Māori speaker, was raised by his grandparents in the Te Urewera settlement of Waikaremoana (Bay of Plenty) before moving to Rotorua at the age of 12 to attend secondary school.

"When I attended Rotorua Boys' High I was one of a few who could speak Māori. Te Reo Rangatira (Māori language) wasn't a predominant language during the early 1980s and at the same time, the kōhanga movement was just starting up. I realised I was a little different and my cousins and mates treated me a little differently because I could speak te reo Māori," he says.

In 1988, Rāpata wasn't sure what he wanted to study when he arrived at Auckland University. Once there he enrolled in a Bachelor of the Arts in Māori.

"The administrators in the Māori department asked me if I spoke Māori and I said yes. So they enrolled me in the second year of that degree. So my BA was in Māori, sociology, and I did a couple of papers in psychology, anthropology and history."

His tutor at the time was the late Dr Ranginui Walker.

"I did my first exam entirely in te reo Māori and got an A+ for it. After the exam, Dr Walker pulled me aside and asked why I did it in te reo. I told him 'nō te mea kōinei kē te reo motuhake o Aotearoa, a, kōinei hoki tōku reo tūturu – because this is the indigenous language of Aotearoa (New Zealand) and my indigenous native language'. And with that Dr Walker offered me a job in my second year at uni as a tutor of te reo Māori."

Rāpata says this event changed his life and sparked a love for teaching.

Rāpata recalls the words of his grandmother, Mary Wiri.

"She said to me, 'kaua e wareware ko te mātauranga o te Pākehā he kīnaki ki tō kai tūturu, arā, ko te mātauranga a ō mātua tīpuna (Never forget, that western knowledge is an embellishment to the wisdom passed on to you by your ancestors)'. Nan was a strong believer in education but also an advocate for retaining our culture, identity and reo (native language)."

Rāpata devoted more than 20 years to academia and taught in numerous education institutes including:
Auckland University
The University of Waikato
Te Whare Wānanga o Awanuiārangi
Te Whare Wānanga o Aotearoa.
Nowadays, broadening his love for te reo, he's driven to teach it to anyone with a desire to learn te reo Rangatira.
"When I came out of university and entered the real world, so the first thing I did was hold a wānanga reo (Māori language workshop) to support my whānau. They said to me 'aue ko wai tēnei whakaputa mōhio – who is this know-it-all – you're one of those university folk," he laughs.
Despite that, he says it was an invaluable lesson that taught him to adapt how he teaches and to ensure his lessons fit everyone, including international students who want to learn about the language and Māori culture.
He says te reo can enhance all aspects of people's lives including socially, spiritually and economically.
"I believe from my experience and seeing it in other people who are learning te reo Māori, is that it enables people to gain strength within themselves. It helps them gain more confidence through empowerment. So if you can improve someone's confidence, you can enhance their attitude and broaden their aspirations in life."
Nowadays, Rāpata delivers online Māori language courses.
Rāpata has also contributed immensely to both his waka of Tūhoe and Te Arawa by authoring several research and publications, which include: